Minnesota Business Finance Corporation (MBFC) is honored to present a $3,000 VetLoan Advantage Rebate to Scott Krisack, Owner of Bemidji Best Auto, located in Bemidji, MN. MBFC is the only Certified Development Company in Minnesota to offer a rebate to business owners that are active or retired members of military service.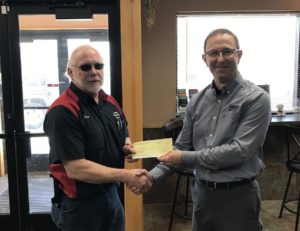 (Pictured above: Scott Krisack, Owner of Bemidji Best Auto, and Mike Stearns, Vice President of MBFC)
After managing the business for 7 years, Scott Krisack purchased the company in 2014. Bemidji Best Auto is a locally owned and operated automotive repair center, tire and wheel dealer. He utilized a SBA 504 loan through MBFC for a real estate purchase of the building that was purchased on a contract for deed.
Prior to working in the automotive industry, Scott had a passion for engines and repair. We are proud to highlight Scott's work in the United States Air Force as a Facilities Manager. This includes over 2,000 hours of Aerospace Ground Equipment training from 1978-1988. He served in Osan AB, Korea, and Grand Forks AFB, North Dakota. Scott was the Facility Manager for the U.S.A.F., Grand Forks AFB from 1989 to 1995 and he received 3 Commendation Medals. MBFC thanks Scott for his service.
If you know a business owner with fixed-asset financing needs, we would love to hear from you!
Please contact your local Business Development Officer
for more information today.