MBFC awarded a $3,000 VetLoan Advantage Rebate to Patrick Heavirland, owner of Charles Cabinets, LLC, located in Roseville, Minn. The rebate was presented by Terry Stein, VP Business Development Officer of MBFC and Nate Wilner, Vice President of First State Bank of Wyoming.
MBFC is proud to be the only certified development company in Minnesota to offer a rebate to business owners that are active or retired members of military service.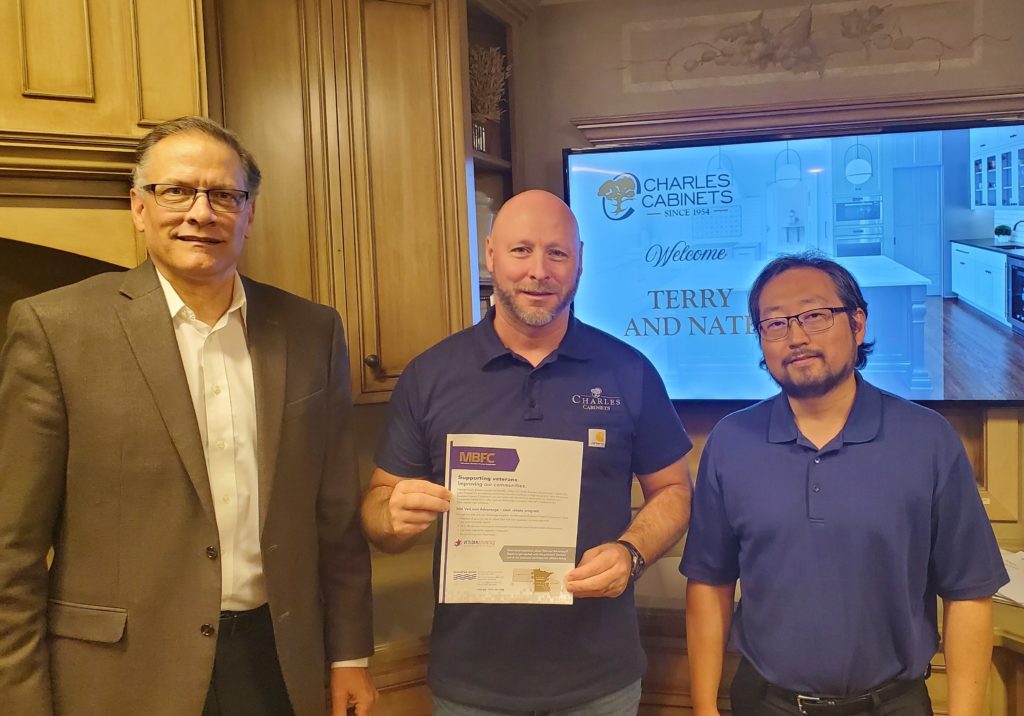 (Pictured above: Terry Stein, Patrick Heavirland, and Nate Wilner)
Patrick worked with MBFC for a SBA 504 loan to refinance the mortgage on the business property. Charles Cabinets is located in Roseville, Minn.. The business has a 2,000 sq. ft. showroom with offices and a work shop from which they design, build, finish, and install custom cabinets and countertops.
MBFC's VetLoan Advantage was presented to Charles Cabinets because of Patrick's Marine Corp background. He enlisted at 17 years old in 1988 and attended boot camp in 1989, 4 days after graduating high school. Patrick became a Refrigeration Mechanic and Humvee Driver for 6 years in the Reserves. He was activated for Operation Desert Storm and served on active duty.
Patrick was promoted in the Marines, becoming a Corporal (E-4), at 19 years old. He then was promoted again to Sergeant (E-5) when he was 21 and received the Navy Achievement medal for Outstanding & Exemplary Service. He was honorably discharged in 1994. MBFC thanks Patrick for his Military Service.
For more information about the MBFC VetLoan Rebate program please call or email our MBFC Loan Officer nearest you!