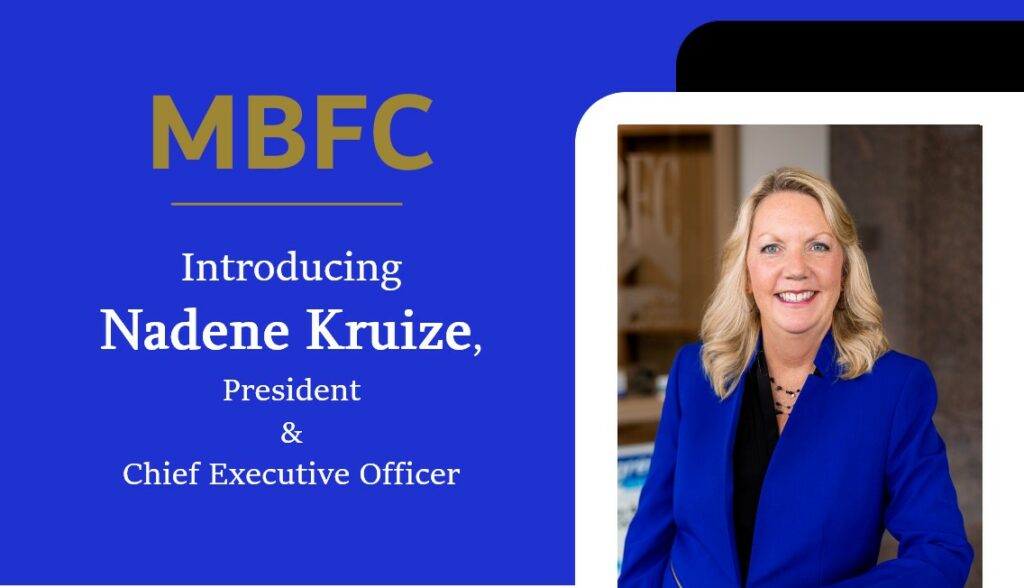 MBFC is pleased to announce that Nadene Kruize is selected as President & CEO, upon Tom Saehr's retirement. Mo Durheim, Board Chairman and Senior Vice President of Farmers & Merchants State Bank of Pierz stated, "MBFC has been extraordinarily successful under the leadership of Tom Saehr, and on behalf of the Board of Directors, 'Thank You Tom!' Your leadership has benefited all inside the organization. During your leadership MBFC has grown dramatically and helped many businesses get access to the best avenue to succeed; many are the businesses and people who are better because of that." He continued "We are excited to welcome Nadene Kruize as the incoming CEO! Nadene has distinguished herself as a highly accomplished leader within MBFC, and brings that experience, expertise, and enthusiasm into the role of CEO. We look forward to the coming years"
Nadene, a 24 year employee of MBFC, has been MBFC's Senior Vice President and Senior Lender the past 13 years. Nadene's experience and leadership shows her passion and true commitment in providing small business owners the benefits of the SBA 504 Loan Program and is evidenced by MBFC being recognized as a 9-time MN #1 ranked SBA 504 Certified Development Company. Nadene is a Nationally-recognized SBA 504 lender, trainer, and an advocate of the features that the SBA 504 Program can bring to all facets of small business growth. MBFC consistently ranks nationwide in the top 15-20 of the SBA 504 loan producing Certified Development Companies (per NADCO.org). Kruize is also frequently featured as a panelist and guest at regional conferences for small business development and entrepreneurial events.
Saehr stated, "This growth is going to endure long into the future
with the mindset of continuing to serve the lenders and
economic developers of the upper Midwest. Nadene has the first hand
experience to run MBFC, with 25+ years of 504 lending."
–
Saehr also shared that "Nadene becoming President & CEO, adds
value to MBFC as a top-notch CDC in a fast-growing region.
MBFC will continue to be the first-thought for lenders utilizing the
SBA 504 program. Nadene is prepared and
excited to handle this next chapter."
Nadene resides in Richmond, MN with her husband, Scott, for the past 21 years. They have 3 adult sons. She is an active Board Member for the St Cloud Area Sertoma Club, with a purpose of meeting the needs of the community through volunteer service. She serves as a Chairperson for the Sponsorships Committee which supports grant requests for purposes of the hearing impaired, Camp Sertoma, and scholarships to aid students within the Communication Sciences area.