MBFC would like to congratulate long time MBFC Member, Nancy Hoffman, Executive Director of the Chisago County HRA-EDA, for recently being selected and honored as
MN's Economic Developer of the Year
The award was presented at the Economic Development Association of Minnesota's (EDAM) winter conference held January 23 and 24 at the Sheraton Bloomington.  MBFC is proud to be a long time EDAM sponsor and exhibitor!
(Pictured below: Nancy Hoffman, Executive Director, Chisago County HRA-EDA, and Nadene Kruize, Senior Vice President, MBFC)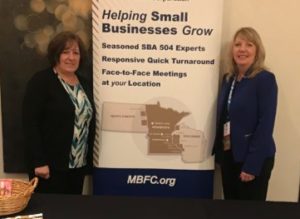 Nancy Hoffman is a longtime leader in local and regional development with Chisago County, and in her previous work with Benton County. Hoffman serves as the Chair of the Minnesota Rural Broadband Coalition, which successfully secured $40 million dollars in DEED funding for broadband in Minnesota communities at the legislature this year. She received a 2019 Courageous Leadership Award from the Blandin Foundation for her efforts.
Hoffman has championed broadband access across Minnesota, serving as past-President for East Central Minnesota's GPS 45:93 economic development partnership in 2019. She also took on a leading role for their broadband and marketing committees to draw more attention to the region. Nancy has also served as a mentor for many economic development professionals, and has a knack for the behind-the-scenes work it takes to rally partners together in support of causes that are transforming our communities.
Congratulations Nancy!