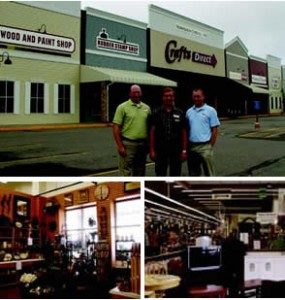 Crafts Direct has always been a family establishment. The retail crafts store in Waite Park, Minn. has its origins in 1990 when John and Diane Schlecht and two friends opened a 10,000-square-foot shop. Sales grew, and in 1994 the Schlecht's purchased full ownership of the store. Their son Scott joined them full-time in the operation of Crafts Direct in the fall of 1996, and their son Jason came on full-time in 2003.
Just like the family that owned it, Crafts Direct has seen a good deal of growth over the years. In spite of an increase to 15,000 square feet, by 2002, the original leased space was simply not enough to accommodate the future growth of the company. The Schlecht's had their eyes on a new location across town that, when expanded, could help them realize their business dreams.
With only a 10 percent equity injection by the Schlechts and as part of a more than $3 million project originated by Minnesota Business Finance Corporation, Crafts Direct now enjoys 64,000 square feet of combined retail and seasonal operations. The space provides for an enlarged stock room with expanded offices and classroom spaces for craft courses and training. The new six-acre location also provides ample free parking for customers. Perhaps most important in the eyes of the Schlecht family, the new building is an outward manifestation of the creative and inspiring experience they want their customers to have every time they shop: the exterior store facade has been designed with an old-town-storefront motif to create a comfortable, warm atmosphere for customers to shop in.