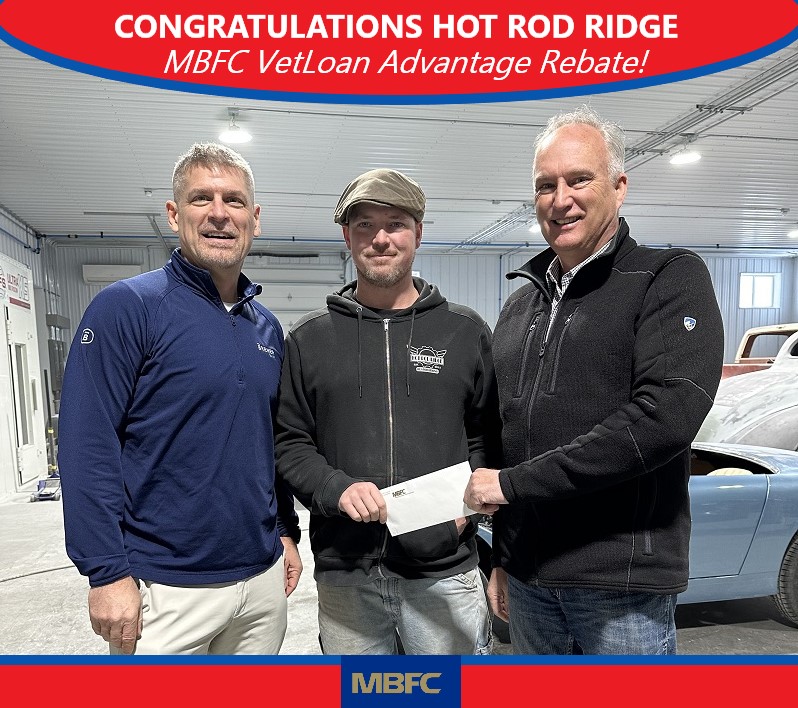 (Pictured: Michael McConkey, Vice President of Bremer Bank, Jesse Strege, Owner of Hot Rod Ridge, and Joe Kammermeier, Vice President of MBFC)
MBFC VetLoan Rebate Presented to
Hot Rod Ridge
MBFC is honored to present Hot Rod Ridge a VetLoan Advantage Rebate of $3,000. This rebate is part of the Strategic Initiative of the National Association of Development Company's (NADCO) VetLoan Advantage program. MBFC is the only Certified Development Company in Minnesota to offer a rebate to business owners that are active or retired members of military service!
The check was presented by Joe Kammermeier, Vice President Business Development Officer of MBFC, to Jesse Strege, owner of Hot Rod Ridge, along with his lender, Michael McConkey, Vice President of Bremer Bank. After starting the business in 2012, Jesse rented a larger shop in 2015 owned by his father-in-law to accommodate his growth. As demand for his services grew so did his need for more space. Jesse doubled the size of his space by obtaining an SBA 504 loan which was used to purchase land in Pillager, MN, construct a new building, and purchase equipment for Hot Rod Ridge.
In 2002 Jesse enlisted with the Minnesota National Guard as a Combat Medic. After completing medic training, the 1st Brigade Combat Team, 34th Infantry Division (Red Bulls) were deployed to Mississippi for six months of training, after which they were sent to Iraq. Jesse was assigned as a platoon medic to 3rd Platoon, Company C, 2nd Battalion, 136th Infantry. He served in Iraq from April 2006 to June 2007. While in Iraq his company escorted convoys, did patrols and provided perimeter security to an airbase north of Baghdad. For a short while he also did volunteer work in the emergency room on base. He served in the guard until his ETS date in November 2008. Jesse recalls, "although it's been fifteen years since I was deployed I still occasionally miss being with 3rd Platoon as "Doc"."
---
MBFC thanks Jesse for his military service and Bremer Bank for partnering with this SBA 504 project. For additional information about benefits for veteran business owners, contact MBFC today by clicking the "About" tab and finding our Business Development Officers in your area.