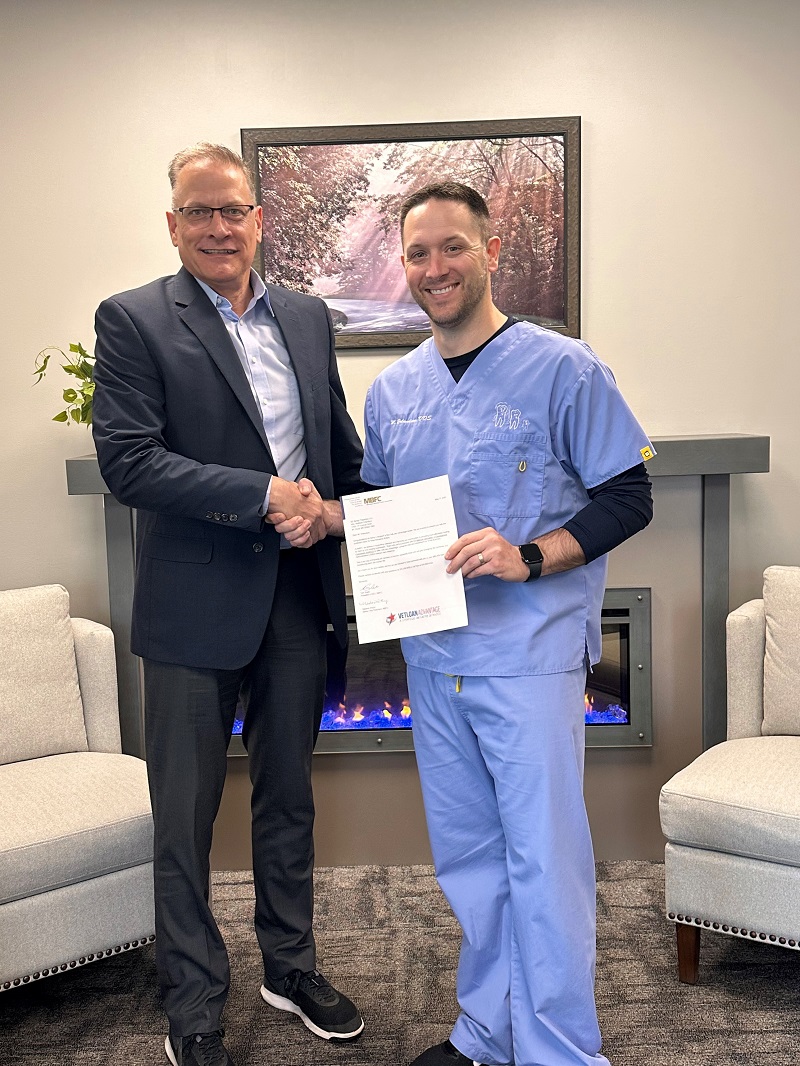 (Pictured: Terry Stein, Vice President of Business Development
of MBFC, and Dr. Erlandson, KE Dental)
MBFC presented a VetLoan Rebate of $3,000 to Dr. Erlandson of KE Dental. This rebate is part of the Strategic Initiative of the National Association of Development Company's (NADCO) VetLoan Advantage program. MBFC is the only Certified Development Company in Minnesota to offer a rebate to business owners that are active or retired members of military service. KE Dental utilized an SBA 504 loan to purchase a leased building, renovate, and purchase equipment. The business is owned by Dr. Kron and Dr. Erlandson and is located in St. Cloud, Minnesota.
Dr. Kron grew up in Cold Spring, MN. He graduated from St. Cloud State University prior to attending the University Of Minnesota School Of Dentistry. Dr. Kron lives in Central Minnesota with his wife and 3 children. Interesting fact, Dr. Kron now owns the same dentistry location he was a patient since the age of 10 years old.
Dr. Erlandson grew up in Monticello, MN. After graduating dental school from the University Of Minnesota School Of Dentistry in 2013, he completed a one-year Advanced Education in General Dentistry (AEGD) residency while on active duty in the United States Navy. He lives in Central Minnesota with his wife and 2 children.
Dr. Erlandson is a third generation Navy Dentist. Upon his admission into dental school at the University of Minnesota, he was awarded the Navy's Health Professions scholarship. After graduating in 2013, he completed an Advanced Education in General Dentistry residency at the Captain James A. Lovell Federal Health Care Center in Great Lakes, Illinois.
Following his residency, he was assigned to 22nd Dental Company in Camp Lejeune, North Carolina for one year. His ultimate duty station was Marine Corps Base Hawaii while he was attached to 21st Dental Company from 2015-2018. After his resignation from active duty, Dr. Erlandson remains a commissioned officer in the Navy Reserve assigned to Expeditionary Medical Facility Jacksonville.
Over the course of Dr. Erlandson's Naval career he has
accumulated numerous medals including:
The Global War on Terrorism Service Medal
The National Defense Service Medal
&
The Navy and Marine Corps Achievement Medal
MBFC thanks Dr. Erlandson for his military service and Jeremy Johnson, of Frandsen Bank & Trust, for partnering with MBFC on this SBA 504 project.
For additional information about benefits for veteran business owners, contact your MBFC Business Development Officer today by visiting our website at www.mbfc.org