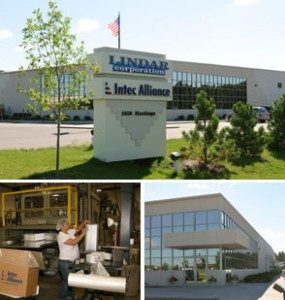 Lindar Corporation is a manufacturer of thermoformed plastic products. Founded in Remer, Minn., in 1979, the company's two key product lines are disposable paint liners and food packaging materials. In fact, Lindar is the largest producer of paint tray liners in the U.S., with a client list that includes the likes of Target, Wal-Mart, and Sherwin-Williams.
Beyond paint liners, company President Tom Haglin sees impressive growth potential in the food packaging market, as today's customers are looking for more convenience and service. Lindar already boasts the likes of Pillsbury on its customer list, and it sells its products to packaging distributors that sell proprietary packaging to the wholesale and grocery store markets.
Success on these fronts left Lindar cramped for space. Haglin approached the Minnesota Business Finance Corporation (MBFC), and together they assembled a financing package that included a $1.2 million SBA 504 loan from MBFC, a $1.4 million first mortgage loan from the Wells Fargo Bank of Brainerd, a $250,000 third mortgage loan from the Central Minnesota Initiative Fund and the North Central Economic Development Association, and $30,000 in owners' equity. This package would provide the funds needed for a new building of more than 54,000 square feet — more than double the size of Lindar's existing facility.
Haglin saw huge advantages in working with the MBFC.
"Because we could use SBA 504 financing as part of our funding package, we got favorable, long term interest rates that contributed our financial stability," he said. "The credibility that came from SBA backing also made it easier for us to get attractive financing packages from conventional lenders."
Lindar currently has 35 full time employees. Although automation has reduced the need for laborers, the company expects to grow to more than 100 employees. These positions require more skill and allow higher average earnings and real career opportunities for more of the company's personnel. In the plant, the company runs first and second shifts and is training personnel to work an eventual third shift.