On Friday, September 13th, 2019, Minnesota Business Finance Corporation (MBFC) was awarded the top SBA 504 loan company in Minnesota based on loan volume. This is MBFC's fifth time awarded this honor by the District Office at the MN SBA Lenders Conference.
Nancy Libersky, District Director of the MN SBA Office, and Robert Scott, Regional Administrator for the SBA Great Lakes Region, presented the award to Nadene Kruize, Senior Vice President of MBFC and Carol Anderson, Chairperson of MBFC Board of Directors (Executive Director of Community Development of Morrison County Inc.).
Lenders, Economic Development Officials, DEED, SBDC, and SBA attendees were present for a day of training seminars, workshops, regulatory changes updates, and lending program updates. The awards program highlighted businesses in Minnesota and their success working with a variety of loan programs to grow and add jobs.
MBFC held a drawing for 2 "Money Trees" at our exhibitor table. Congratulations and thank you to everyone who entered to win!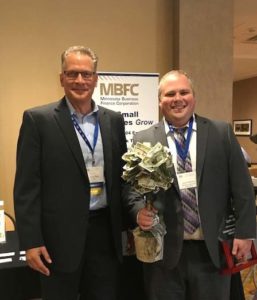 (Pictured:Terry Stein of MBFC with Justin Reimer of Member's Cooperative Credit Union, Joe Kammermeier of MBFC, with Ryan Holthaus of Sentry Bank and Nadene Kruize of MBFC)
Thank you to our Lending Partners and
Small Business Borrowers for making
MBFC the #1 CDC in Minnesota!