MBFC awarded a VetLoan Advantage Rebate to Ken and Heike Dodge, owners of Falls Optical, in Little Falls, MN. The $3,000.00 rebate was presented by Joe Kammermeier, VP Business Development Officer and Mo Durheim, MBFC Board Member, Senior Vice President of Farmers & Merchants State Bank. MBFC is proud to be the only certified development company in Minnesota to offer a rebate to business owners that are active or retired members of military service.
Dr. Ken Dodge is an optometrist serving the Little Falls area since 2001. The SBA 504 Loan program assisted with a land purchase and construction of a building for the business. There is also a second location nearby in Pierz, MN. Ken and Heike worked with Mo Durheim as their primary lender through Farmers and Merchants State Bank. The SBA 504 Loan Program provides long term, below market, fixed interest rate financing that assists small businesses and grows the economy!
(Pictured below: Mo Durheim, Senior Vice President of Farmers & Merchants State Bank, Joe Kammermeier, Vice President of MBFC, Ken and Heike Dodge, Owners of Falls Optical)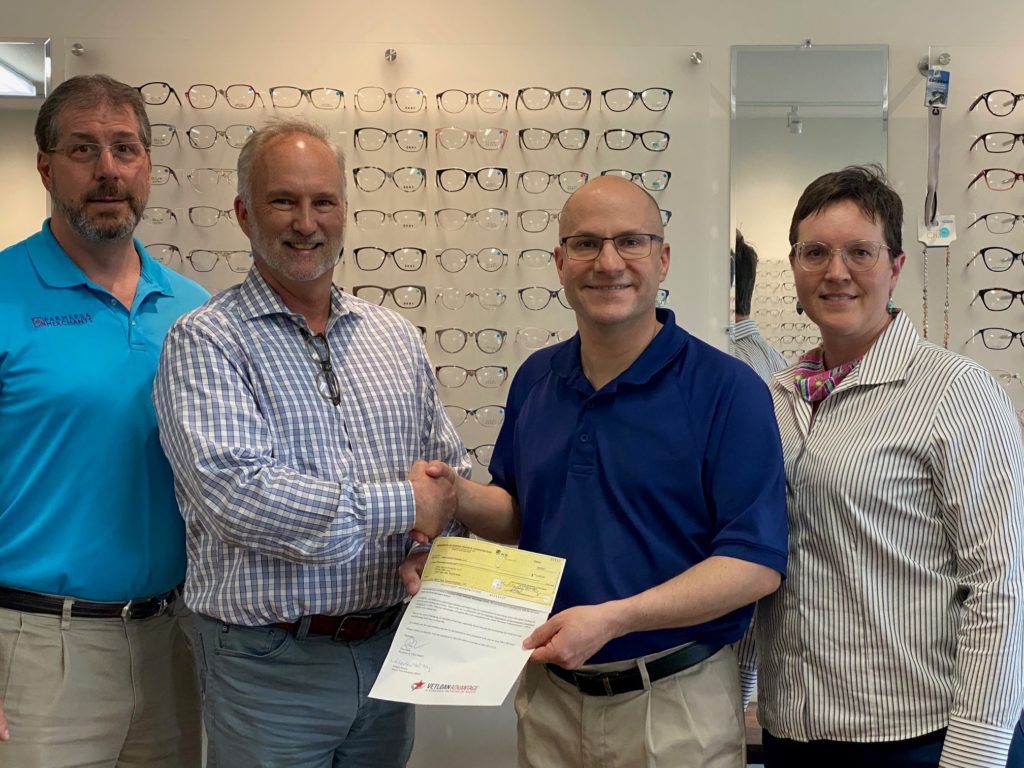 The MBFC VetLoan Advantage 
Ken is a Captain and serves in the 133rd Medical Group of the Minnesota Air National Guard. He was activated twice for civil unrest in Minneapolis, MN. Heike is a Captain and Commander of the Crow Wing Composite Squadron of the Civil Air Patrol (CAP), which is an auxiliary of the U.S. Air Force. The Dodge family's 3 teenage children are also members of the CAP youth program.
January 2021, several Minnesota Wing members, including Heike, were highlighted during the pandemic for volunteering to reorganize personal protective equipment (PPE) for healthcare workers. A total of "13 cadets and senior members assembled 200 boxes with 19,000 surgical masks, +1,500 face shields, 3,000 Level 1 gowns and 6,000 medical gloves, accomplished in 6 hours. Normally this would have taken 2 days. They also assisted National Guardsmen to reorganize over 211,000 PPE items in storage warehouses." – 2nd Lt. Joseph Calandra Jr. 
Minn. Civil Air Patrol Members Assist National Guard PPE Mission – news article link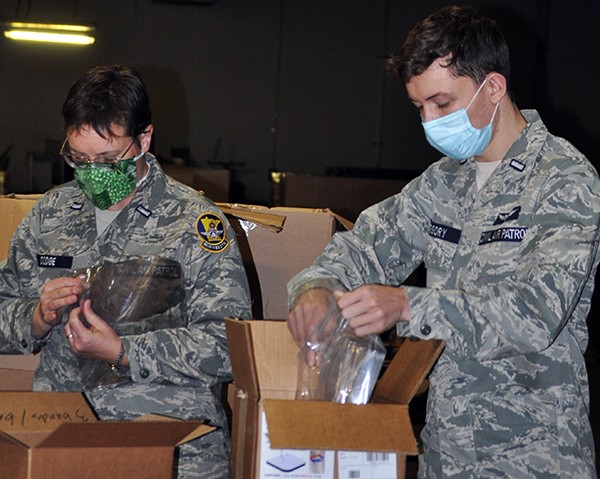 Heike and their oldest son joined the Civil Air Patrol in 2016. Each of their children joined CAP when they became old enough (must be 12 years old to join). She is the current Squadron Commander since 2019 and has served in additional roles including Public Affairs Officer and Recruitment & Retention Officer.
Ken leads as a CAP Character Development Instructor, Finance Officer, and Safety Officer, among other positions. The Dodges enjoy many activities and being part of their kid's CAP involvement advancing in cadet roles, including recruiting, color guard, flight sergeant, flight commander and first sergeant.
MBFC would like to specifically thank Military Veterans for their time and sacrifice spent serving our county. The SBA 504 loan program offers fixed-asset financing for business borrowers with below-market, long-term, fixed interest rates. For more information about the MBFC VetLoan Rebate program please call or email a MBFC Loan Officer nearest you!