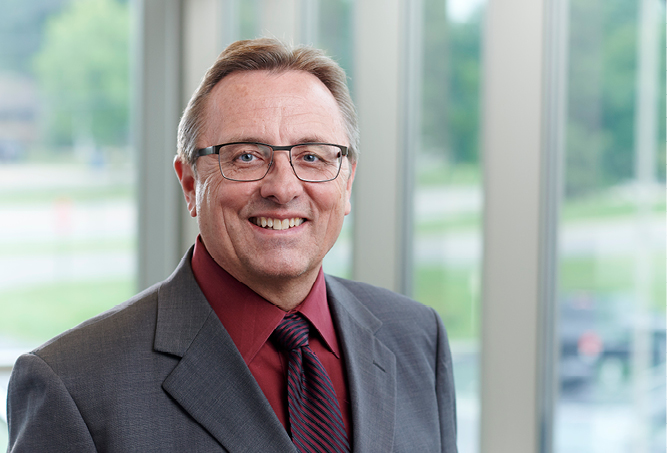 Minnesota Business Finance Corporation is announcing on May 22, 2023, the retirement of President and CEO, Tom Saehr. Tom will officially retire this December 2023.
Honoring over 25 years with MBFC, Tom started at MBFC April 1, 1999, as a Loan Officer and promoted to Senior Vice President soon thereafter. Tom was promoted to President and CEO in 2010.
Over the course of his career, Tom has worked with regional small businesses, financial institutions, government units, and development organizations to finance projects to help businesses grow and benefit the communities they serve.
Tom's top three accomplishments in his tenure are MBFC's portfolio growth from $150 million to $450 million, expansion of territory served from one state to five states, and the countless small business served over his tenure.  "My relationship with vendors, bankers, economic developers, MBFC employees, public/elected officials have been nothing but an honor and is exceptionally gratifying. To drive throughout the region and see the tangible business MBFC has assisted is a special treat."
An executive search is underway and details for
interested candidate can be found at   www.mbfc.org/category/announcements.
Minnesota Business Finance Corporation is a private not-for-profit 501 (c)(3) organization licensed by the U.S. Small Business Administration as a certified development company (CDC). As an SBA licensed CDC, MBFC is responsible for administering and delivering the SBA 504 loan program and financial business assistance, meeting all federal guidelines and provisions.  MBFC competes with other licensed CDCs in Minnesota and border states. MBFC is recognized as the premier operating CDC in the state, with a national reputation as a leader amongst its peers.  As a 501(c)(3) private non-profit corporation its scope and services are not limited to operation of an SBA 504 program.  MBFC may choose to provide other services and engage in programming that meets its charter as a non-profit organization.
With offices in St. Cloud, Excelsior, Detroit Lakes, Slayton, MN, and West Fargo, ND, MBFC serves the entire state of Minnesota, North Dakota, western Wisconsin, southeast South Dakota, and counties in northwest Iowa.
Currently, MBFC services an SBA 504 loan portfolio over 1,000 loans for $430 million.  MBFC has a staff of 17 highly dedicated, proficient, and customer-servicing professionals. MBFC is governed by a Board of Directors with representation from its members.  In addition to the Board and Staff, it also has a formal group of approximately 75 members that serve as a supporting resource and referral network.