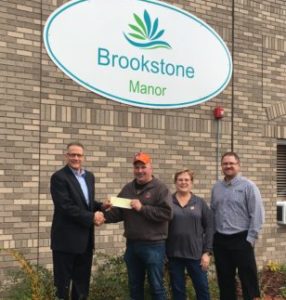 Minnesota Business Finance Corporation (MBFC) is honored to present a $3,000 VetLoan Advantage Rebate to Dean and Paula Rocheleau, of Brookstone Manor located in Grand Rapids, MN. MBFC is the only Certified Development Company in Minnesota to offer a rebate to business owners that are active or retired members of military service.  Terry Stein, Vice President of Business Development at MBFC, presented the check to Paula and Dean at their business, accompanied by their lender, Chad Hess from Central Minnesota Credit Union (CMCU).
MBFC has partnered with CMCU on several other successful assisted living/nursing home operations throughout Central Minnesota for Deal and Paula. This is Dean's second MBFC VetLoan Advantage Rebate.
Dean was a member of the Army National Guard from 1986 until 1994. He attended basic training in 1987 at Fort Dix, New Jersey. Then he attended AIT at Fort Lee, Virginia. Rocheleau was a material handling and supply specialist and served at Camp Ripley, near Little Falls, MN.
Thank you to our borrower for his military service. For more information about the VetLoan Advantage Rebate offered through MBFC please contact us below.