The creative dance vision of Cindy Clough and the business acumen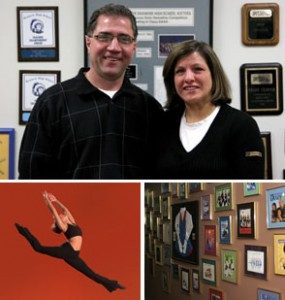 of husband Steve catapulted Just For Kix (JFK) from a tiny firm run out of the Clough home to a national, multimillion-dollar operation. JFK oversees precision dance team programs involving 18,000 elementary, middle school, junior high and high school dancers in over 150 communities in seven Midwestern states. It conducts summer dance, drill and pom camps in eight states and dance performances for special events such as the Outback Bowl. JFK's catalog division also sells a full line of dancewear, including JFK-branded accessories.
When Cindy Clough was coaching the Brainerd High School dance team in Brainerd, Minn., nearly 30 years ago, she launched a noncompetitive junior dance team. The concept of developing and providing lessons for dance teams in the American heartland has resulted in JFK occupying a special market niche, which continues to grow exponentially. To facilitate growth, the Cloughs needed to expand. They took out an SBA 504 loan through Minnesota Business Finance Corporation to finance construction of its new headquarters.
The completed 19,000-square-foot structure serves as JFK's administrative and managerial center. Much of the structure is comprised of a cavernous warehouse stocking hundreds of different types of dance accessories that JFK merchandises nationally through its catalog. The SBA 504 loan that JFK took out also fueled job growth. The number of JFK staff increased from 34, when the loan was approved in 1997, to around 550 now. "The financing terms of the 504 loan were advantageous and the loan contributed significantly to our growth," said Cindy, who was recently bestowed the Entrepreneurial Success Award for Minnesota by the Minnesota Office of the United States Small Business Administration.